2022 Summer Robotics Camp
The Santa Fe TX Education Foundation is offering this summer camp opportunity for students entering grades 3-8!
This hands-on camp with VEX robotics kits used in Santa Fe ISD will be led by a High School student in the Robotics Program! PLEASE NOTE: If your child participated in last year's 2021 Summer Robotics Camp, this will be the exact same build.
Register for one week:
July 11-15 2:00-3:00pm
July 18-22 2:00-3:00pm
Cost is $10 with a refund if student attends Monday-Friday. Space is limited.
Please only register for one week.
This Robotics Camp will be held in the community room at the Mae S. Bruce Library.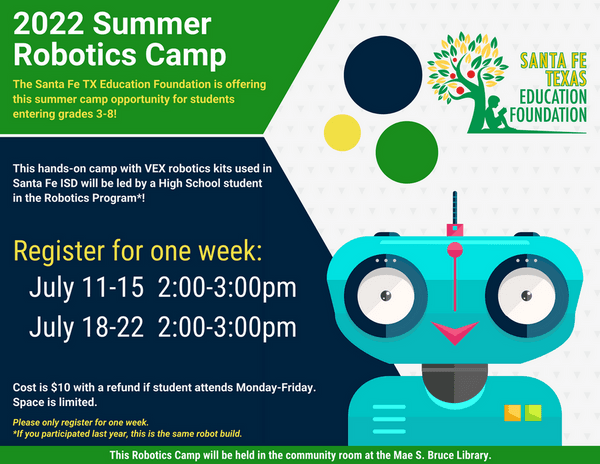 ---
STREAM Program Launch:
In September 2019, STREAM became a District-wide program for all ages.
Students in K-12 were given the opportunity to participate in a first-ever after-school program to focus on science, technology, reading, engineering, art, and math. 
Our former STEM lab was thereby upgraded and disbursed between all campuses providing this after-school program through the initial generous donations by:

BP
Big Crawfish Bash
Marathon
Santa Fe TX Education Foundation
United Way
Valero Benefit for Children/Texas City Refinery
COVID-19 didn't stop the focus of our STREAM leadership! 
The after-school program quickly shifted to a virtual format.
Santa Fe ISD moved forward with its first-ever summer camp and hosted STREAM camps virtually. 
---
Cultivate. Nurture. Ignite. Inspire.
Robotics Club 2019

In its first year, the Robotics program was invited to participate in Nationals and World competitions!

STREAM After- School Program Kubacak Elementary 2019

Students in 4th and 5th grades at Kubacak Elementary school gather together after working in teams to collaborate on ideas for a project. Then, they presented their project, with learned successes and failures, in front of the class!