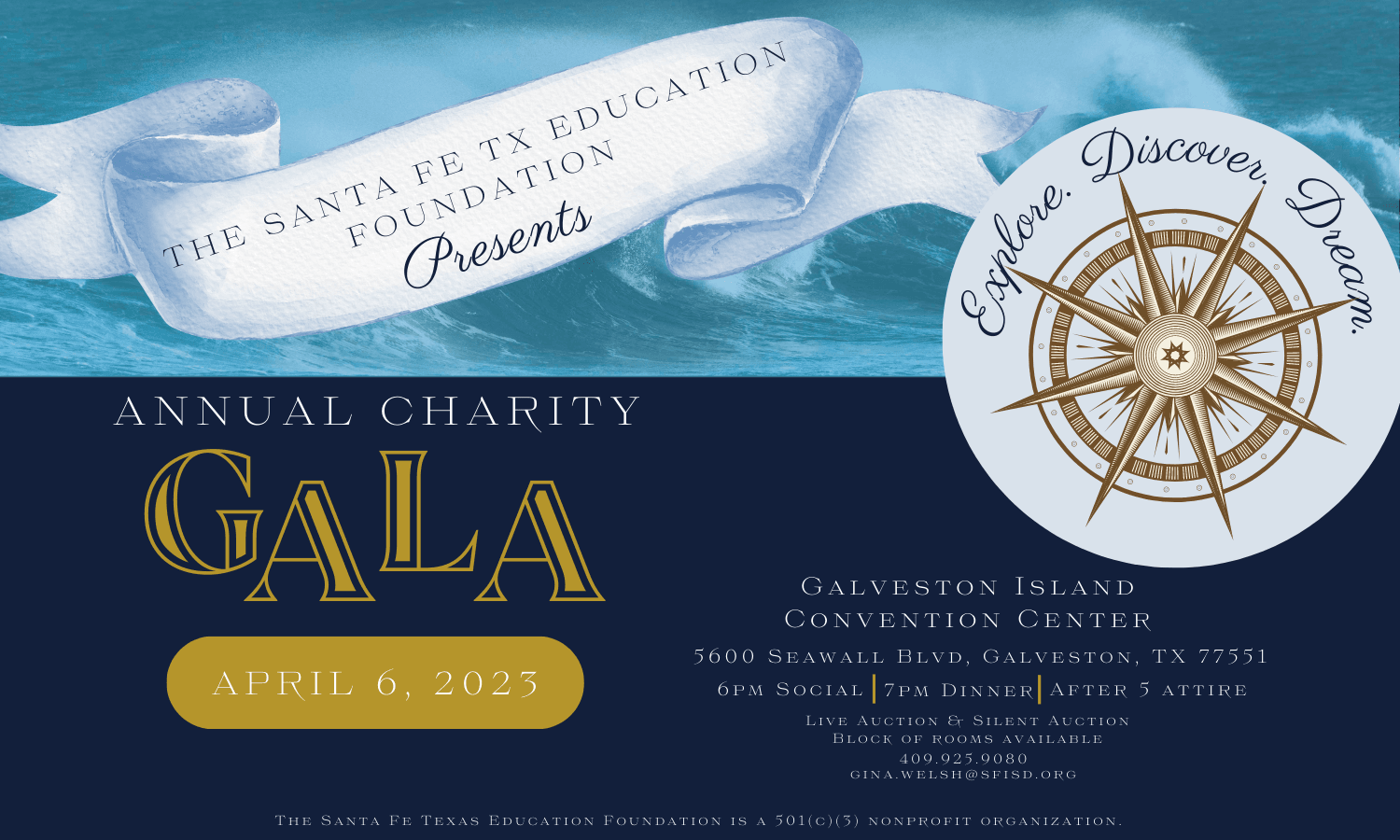 2023 Charity Gala "Explore. Discover. Dream!"
When: Thursday, April 6 | 6pm Social Hour | 7pm Dinner
Where: Galveston Island Convention Center | 5600 Seawall Blvd, Galveston, TX 77551 
Dress: After 5 atttire
What: The biggest social event and fundraiser of the year to support our amazing educators, staff, and students in Santa Fe ISD!
You are hereby cordially invited to attend The Santa Fe Texas Education Foundation's Annual Charity Gala being held on Thursday, April 6, at the Galveston Island Convention Center. This event is our signature event raising the most funds annually.
The funds we raise are crucial to supporting our teachers and educators in their classrooms through Grants for Great Ideas, through Teacher Appreciation Week, and through various efforts during the school year to show how much they mean to us. The funds we raise are equally crucial to supporting our nearly 4400 students throughout our campuses, with over half of the student population coming from families with economically challenged backgrounds. Therefore, the funds not only support our teachers and educators, but additionally support our students who will benefit from Grants for Great Ideas and be able to experience opportunities they otherwise would not be able to experience outside of the classroom setting. These funds are clearly enriching education for students and developing the workforce of tomorrow!
Funds raised in 2022 allowed us to deliver over $140,000 during the Grant Parade held on October 27th. A total of 38 projects were funded, several of which were multi-campus for greater impact! Your role as an investor, attendee, or participant is clearly making a difference!
Our theme this year is Explore. Discover. Dream.
~Explore what is taking place throughout the classrooms thanks to the funding the Foundation has received.
~Discover all of the programs that the Foundation supports.
~Dream about the future of the Foundation!